using the Zodiak by Zak Cohen
A tilt EQ consists of both a low shelf and high shelf joined at a single corner frequency (in this case 700Hz). This offers a smooth, single control for adjusting the overall tonality of a source. Because high and low frequencies are adjusted simultaneously, small increments result in noticeable changes - +1 dB on a tilt control results in a 2dB shift between the balance of high and low frequencies.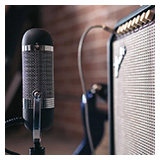 I've found this especially useful when tracking all types of different instruments in the studio and especially when using dynamic or ribbon mics where there is often a somewhat attenuated HF response and an abundance of LF proximity effect. Applying a positive value on the tilt control adjusts both ends of the frequency spectrum at the same time, and the shared corner frequency results in an extremely smooth natural sounding result when compared to adjusting multiple bands of a traditional eq, thereby minimizing phase shifts.
My general workflow is to place the microphone in the optimum position with regards to tone, ambience and separation from other sounds in the room and then decide whether the resulting sound leans toward too dark or too bright. Using the tilt control, I adjust the overall balance between HF and LF until the source sounds as natural as possible. At this point there may be aspects to the midrange that are resonant, boxy, nasal (insert your favorite audio adjectives here!) that can be corrected by the Zodiak's parametric midrange band. In some cases, using a tilt control (like any shelving bands) may result in excessive frequency content at the boosted ends of the spectrum, which can be corrected using the high and low cut filters.
I have found this approach to produce great results with a minimal amount of tweaking. It's been my experience that using a tilt eq results in less overall adjustments when compared to other eq designs. Some favorite applications are (but not limited to) acoustic stringed instruments, piano, drum kit, electric guitar and of course - vocals.