Welcome to Buzz Audio

Here at Buzz Audio we manufacture gear for analogue recording, mixing and mastering - be it music, voice, sound effects or what ever you do. We have been building gear since 1990, and designer Tim Farrant has been in the audio business since 1980. Some of our products take inspiration from the classic designs of the past, but unlike so many other manufacturers today we are original - we do not clone or copy other peoples work!

So why choose our products;
boutique original circuit design
innovative solutions to sound recording & mixing tasks
hand made by people who care about their work
solid construction to last many years
proven track record in reliability
modular construction, serviceable components (no surface mount)
personal after sale customer support
they sound damn good!
the drum buss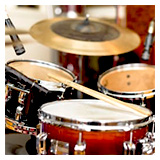 If you record real drums (or track in-the-box-drums) you need to hear the DBC-20 diode bridge compressor. Since the introduction of the DBC compressor, it has found favour with many users as a drum stem compressor, adding real vibe and weight to the performance. It can bring up ambience without sacrificing punch and dynamics.
"It has just the right amount of colour to it, its tight, punchy, rich and lush sounding."
"This is a very colored compressor, but what a color; sparkling wet, fast, clear, snappy, snazzy, and flamboyant all come to my mind."
check it out